Testimonials - Dogs
Digger
Just before Christmas 2018, our dog Digger was in pain and we didn't know why. He did not want to be touched. The vet thought it was a back spasm. Digger was put on medication and we thought he responded well to the meds. The pain continued to come and go, though. Some days he would be fine and other days he didn't want to be touched.
Even though the medication seemed to help Digger, we were concerned that we didn't know the reason for his pain. A friend told me I should try animal chiropractic treatments for Digger's pain. I honestly had no idea that animal chiropractors even existed so I GOOGLED it and found Dr. Lori Batch in Bolton.
The first few treatments were tough because Digger did NOT want to cooperate. Dr. Batch was so calm and patient so Digger could begin to trust her. Now Digger loves his treatments, especially the treats! He is completely off all meds and is getting back to his normal self.
Thanks to Dr. Batch our family has our dog back. We can't thank her enough and are forever grateful for her helping Digger!
Candice H.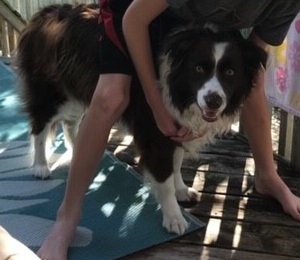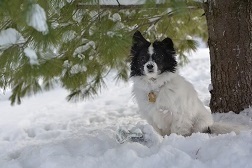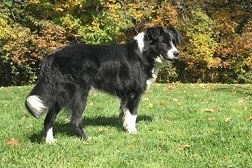 Oakley and Tucker
We brought our two dogs to Dr. Lori after Oakley severely threw out his neck while playing. Not even being able to turn his neck without yelping, we took him to the local veterinarian where they told us that there was nothing they could do besides put him on painkillers. In search of a holistic solution, we found Dr. Lori and within a few treatments Oakley had regained full movement and was back to his old self!
We also started bringing our fifteen-year-old Border Collie, Tucker, to Dr. Lori for regular treatments. Since starting treatments, we have seen huge improvements in his health and mobility.
Bringing our dogs to Dr. Lori has been one of the best decisions we could have made to contribute to the overall wellbeing of our dogs.
If you're considering animal chiropractic for your pet, Dr. Lori is the professional to see!
Rachel C.
Ziggy
I have an 8 yr. old French bulldog, Ziggy, who really enjoys chasing and playing ball. Over the past year I noticed his spine changing. He was becoming shorter in length and a protrusion of his spine was evident.
Rather than go to a vet, I decided to take a less invasive approach and made an appointment to see Dr. Batch. She told me that he had reduced mobility and some nerve pressure in his spine but thought chiropractic would help him.
It was love at first sight for Ziggy! Dr. Batch was very calming and the entire visit - including the adjustment - went very well.
Even after the first visit, Ziggy was much happier - and so was I. After several weeks of treatment the difference has been incredible. Ziggy has stopped chewing his feet due to nerve pressure and irritation. His spine has lengthened out and is he is so content. Now when I take him to see Dr. Batch he runs to her door to get in!
I would recommend chiropractic treatment for dogs in a heartbeat, especially after what I've witnessed with Ziggy.
Carol C. & Ziggy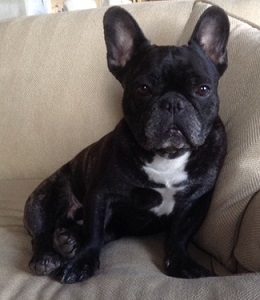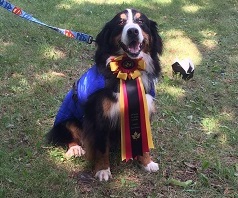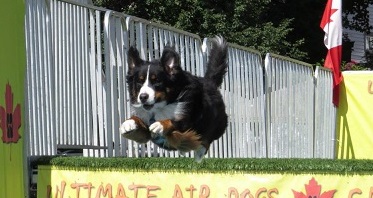 Cairo
I brought Cairo to Dr. Lori because he was wearing down his front nails faster than his back nails and because his trainer had noticed that he was 'throwing' himself over 12 inch jumps, rather than using his hind end. He was doing dock diving and jumping around 12 feet. After a few sessions with Dr. Lori and some exercises at home, Cairo started using his back end to jump and his back was far less seized.
Cairo has continued to improve and he now has an extremely powerful back end. He spent most of the summer jumping between 14' and 14'8" and this past weekend (September 2014) he achieved his personal best of 16'10"!!! That's more than a four foot improvement, something he never would have been able to do before being treated by Dr. Lori. On top of that - and way more important - my little boy moves easily now!
Thank you so much Dr. Lori! Cai sends lots of wiggles and kisses.
Kerry L.
Mickey
My seven year old ShiPoo, Mickey, was an active, playful dog until one day we noticed he had developed a limp. Days later, he became slower and sluggish. His vet informed us that he had a herniated disc that required surgery. Because Mickey is an active dog by nature, we thought he would improve within a few days time with pain medication. Unfortunately, his walk became slower and he was in obvious pain. At this point, his vet gave him one last prescription for pain medication and suggested that we put him down. We refused to accept this as we could see in Mickey's face that it was not his time. It started getting very difficult to watch Mickey try to walk and do his business. I resorted to carrying him in a dog stroller. Although he loved seeing his friends in the park, he was afraid to hurt himself more, becoming unsocial and remaining in the stroller.

My chiropractor in Toronto suggested that we visit with Dr. Lori Batch. Mickey's first visit with Dr. Batch was a tense one. He was tender, and she very gently touched him with her capable, caring hands. His second visit a few days later was an easier treatment and he tolerated being touched. The third and fourth treatments were significantly easier and showed great improvement in Mickey's mobility.

After three months, it still seems unreal that Mickey is able to walk better and his quality of life has significantly improved. I owe this to this outstanding chiropractor. Mickey LOVES going to see Dr. Batch, probably because he knows that she is helping him to feel better. He loves her sweet voice when she talks to him and her kindness demonstrated by the way she touches him.

If you are going through a rough time with your pet's health and you are feeling like there is no hope, please do yourself a favor and visit this very compassionate professional - it will be worth it to have her examine your pet and have him/her treated as though they were her own.
Nancy M.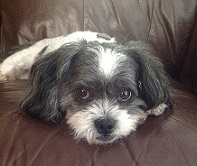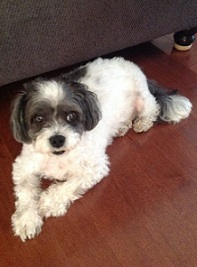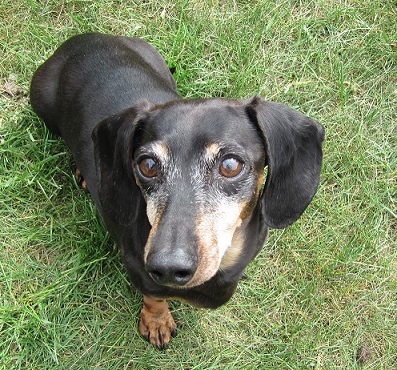 Heidi
Last year my dog Heidi, a miniature dachshund, decided to jump onto a couch but, instead, fell awkwardly and started yelling loudly. I immediately rushed her to a local vet in Bolton and they determined she had lost almost all of the feeling in her back legs.

I was sent then to a fancy emergency surgery clinic in Oakville. It was determined that Heidi had a spinal disease, and perhaps we could have an operation, but it would be very costly. After many x-rays, scans, etc., they said that her blood cell count was too low, and she would not be able to survive the operation. More or less, I was told we should put her down. They said I could leave her and that perhaps, in a few days, she would be in better shape to survive the operation.

I decided to take my dog home to evaluate our options.

A short time later, one of the staff members at a neighbourhood pet food store told me about Dr. Lori Batch, an animal chiropractor in town. I decided to take Heidi to Dr. Batch to see if there was anything she could do.

Within weeks of starting chiropractic care, Heidi (who could not walk for virtually a month) started walking again! I take Heidi for care on a regular basis now, and while she is not 100%, she certainly can move around again, have a good quality of life, and be a big part of my life once again.

To Dr. Batch and her team at Southview Chiropractic, a big 'thank you' from myself and Heidi for your great work!


Jersey Girl
After surgery on both knees our 8-year-old Kelpie, Jersey Girl, started limping badly on her left front leg. After seeing the orthopedic veterinarian who performed the surgery, we were told the cartilage in her left elbow was breaking down and that the extra weight placed on the front legs following the knee surgeries was making the problem worse. Numerous trips to the vet offered no solutions and Jersey Girl became so lame that she was unable to walk more than a few steps at a time. She spent her time lying in the same spot all day. We had her on a high dose of NSAIDs and painkillers that she took twice a day. As a last resort our vet suggested we take her to a chiropractor. We were skeptical but decided to try it because it was terrible seeing our once active girl now spending day after day barely moving.

During our search in the GTA we called Southview Chiropractic. Dr. Batch was very caring on the phone and made arrangements to stay open after her last appointment on a Saturday so that Jersey could be seen as soon as possible. The first appointment lasted nearly 45 minutes. Dr. Batch took a thorough history and explained in detail what would be done as well as a timeline for improvement. During her treatment Dr. Batch is compassionate and extremely patient with Jersey Girl, even though Jersey doesn't always co-operate. Within two weeks of starting Chiropractic treatments Jersey Girl became more active - limping less and putting more weight on the front leg. After only three weeks she was chasing squirrels, jumping up on the couch, and trying to herd cats and other dogs again. Six weeks later we had a recheck appointment at our vet and they were amazed at how well Jersey Girl was moving.

Now, because of the outstanding care Dr. Batch has given her, Jersey Girl is only needing half the original dosage of NSAIDs and is only getting painkillers as needed. Our girl is able to go hiking on her favourite trails and plays with her dog friends at the park again. None of this would have been possible without Dr. Batch's care. We cannot thank her enough for what she's done for us and have no hesitation about recommending her to other pet owners.
Mairi, Kim, & Jersey Girl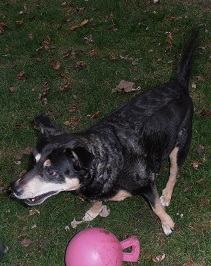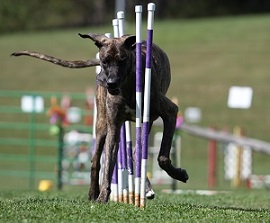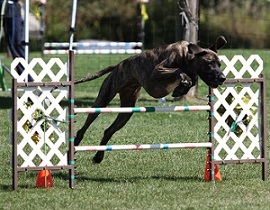 Zander
My name is Zander and I'm a 4 year old Great Dane with an active lifestyle. I enjoy everything from going for a leisurely walk to playing my favorite dog sport - Agility. Some people may say that I'm not really designed for such sports, but it's my goal to prove them wrong.

Recently my mom and dad noticed that I was spending more time in bed and not bugging them to play. The truth is, that I was getting sore. My parents thought that I may have to stop doing agility, and that was not something that I saw as an option.

This is when we all decided that I should see Dr. Batch on a regular basis to correct and maintain the health of my spine and nervous system. Let me just say that she has done wonders for me! I'm feeling great and running faster then I have in a long time. Look out Border Collies, here I come!!

Thank you, Dr Lori Batch, for all you have done for me!
Zander
Rosie
My family and I were devastated when Rosie, our beloved Jack Russell terrier, received her life-threatening spinal cord injuries. With all the care that she has received, nothing was more profound to her quality of life and recovery than the chiropractic care provided by Dr. Lori Batch from Southview Chiropractic & Wellness Centre. Our twelve year old "puppy" is now happy, healthy and strong once more.

Thank you very Much!

Tony D.

P.S. Click Here to watch our "We Love Rosie" Youtube video.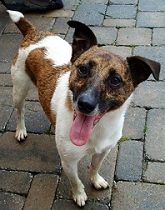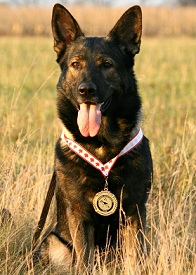 Garak
My dog Garak first started visiting Dr. Lori Batch after showing signs of pain when jumping up. Our trainer suggested trying an Animal Chiropractor because of all the high impact sports he loves to participate in. Dr. Batch has helped Garak a great deal.

Garak is a performance dog, one very versatile German Shepherd, who trains and competes in sports such as Schutzhund, Dockdogs, Disc Dogs and Herding. Dr. Batch keeps my athletic canine in top condition and with her help Garak has had a very successful year earning his SchH1, AD (Endurance title) and placing 1st and 2nd in Dockdogs Extreme Vertical and Speed Retrieve!

As an Animal Professional myself for over 10 years I recommend her to my clients and my dog sport friends. She is so kind and caring with animals. Garak loves going for his adjustments, and his cookie after!


Leslie G.
Professional Groomer